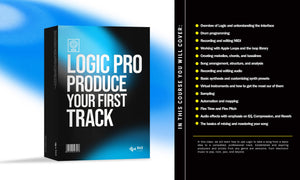 Learn the fundamentals of producing with Logic Pro and produce an original track by the end of the course.
Level: Beginner/Intermediate
Location Köpenicker Str. 6A, 10997 Berlin

In this class, we will learn how to use Logic to take a song from a basic idea to a completed, professional track. Established and aspiring producers and artists from any genre are welcome, from electronic music to pop, rock, jazz, and beyond.
In this course we will cover:
Overview of Logic and understanding the interface
Drum programming
Recording and editing MIDI
Working with Apple Loops and the loop library
Creating melodies, chords, and basslines
Song arrangement, structure, and analysis
Recording and editing audio
Basic synthesis and customizing synth presets
Virtual instruments and how to get the most out of them
Sampling
Automation and mapping
Flex Time and Flex Pitch
Audio effects with an emphasis on EQ, Compression, and Reverb
The basics of mixing and mastering your song
Learn from Berlin's most accomplished instructors and artists:
More Ableton Certified Trainers than any school worldwide
Real-time instruction, student questions, and feedback
Intimate class sizes (roughly 5 students) ensuring maximum student/instructor interaction
Motivation and inspiration from experienced instructors with real industry success
Online community forums to ask questions outside of the classroom and meet peers and collaborate
Daily free community events
40% discount on Ableton Live and 20% discount on Ableton Push