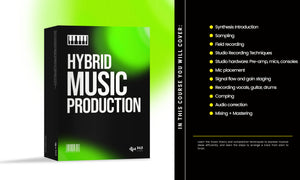 Learn about studio recording, best practices for running a session, and how to integrate the recordings with your electronic productions.
This course teaches the fundamentals of working in a recording studio and running a recording session with studio musicians. Learn to record acoustic instruments and incorporate the recordings with your productions to create hybrid textures consisting of acoustic and electronic sounds. Explore creating field recordings to make your productions richer. Learn about microphone types and placement, preamps, signal flow, gain staging and how to achieve a high quality recording and use the material inside the DAW to create a well-rounded production.
Requirements: This is an intermediate to advanced level course. We recommend good proficiency with music production and having produced at least one track of your own. 
Learn from Berlin's most accomplished instructors and artists:
More Ableton Certified Trainers than any school worldwide
Real-time instruction, student questions, and feedback
Intimate class sizes (roughly 5 students) ensuring maximum student/instructor interaction
Motivation and inspiration from experienced instructors with real industry success
Online community forums to ask questions outside of the classroom and meet peers and collaborate
Daily free community events
40% discount on Ableton Live and 20% discount on Ableton Push